Find out why your Instant Pot is NOT sealing and exactly how to fix the issue. Troubleshooting all the various reasons an electric pressure cooker may not seal properly and how to fix the issue so you can get back to pressure cooking with success.
If you have been frustrated because your Instant Pot is not coming to pressure, you are not alone.
I get emails daily asking me to help troubleshoot the various reasons why someone's electric pressure cooker is not coming to pressure and I have been there a time or two myself when making one of my Instant Pot Recipes.
9 times out of 10 the reason why your Instant Pot won't come to pressure is that it is not sealed correctly.
<iframe width="560″ height="315″ src="https://www.youtube.com/embed/KleZdeMX-Mg" frameborder="0″ allow="accelerometer; autoplay; encrypted-media; gyroscope; picture-in-picture" allowfullscreen></iframe>
Why Isn't My Instant Pot Sealing?
Do not panic if your pressure cooker is not sealing, there are plenty of reasons this occurs and is easily remedied.
First, you may be wondering how do you KNOW if your Instant Pot is not sealing properly.
There are TWO ways to determine if your Instant Pot is not sealing.
Depending on your recipe, it can take anywhere from 5 to even 30 minutes for pressure to be reached and cook time to begin on a pressure cooker. If that time has elapsed and the float valve has not popped up and cook time has not begun, chances are high your pressure cooker is not able to seal.
If cook time begins on the Instant Pot begins but the float valve has NOT popped up, the Instant Pot is not sealed.
Please note that if you have large quantities of frozen food or lots of liquid in your instant pot, it may take up to 45 minutes to fully reach pressure.
Reasons WHY the Instant Pot is Not Sealing
Once you have determined that your instant pot is not sealing, REMOVE the lid from the Instant Pot to investigate the issue and determine the cause.
The reasons can include:
Pressure valve knob was turned to "vent" instead of "seal."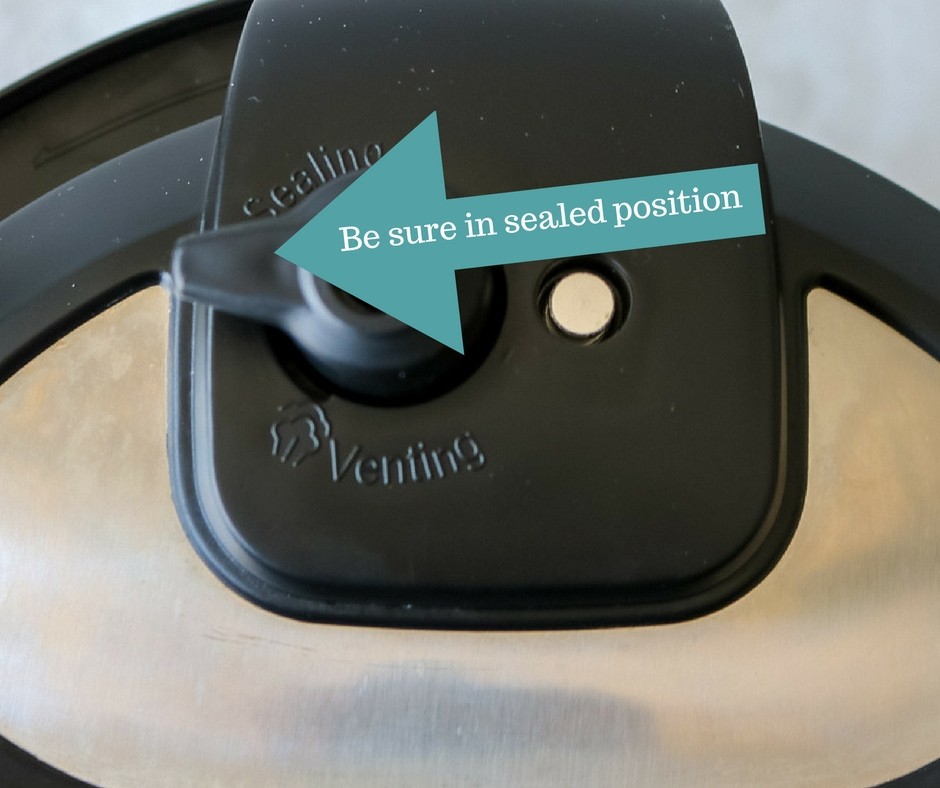 Sealing Ring is not properly installed or missing.
Sealing Ring is dirty (often food debris like starchy cooking liquid from rice or beans). Just clean and replace the ring.
The Instant Pot lid is dirty.
The float valve or anti-caking shield is dirty.
Sealing Ring is broken. The sealing ring can break or tear after wear and tear or an encounter with a sharp knife or dish disposal (been there, done that!)
Sealing Ring is too hot and is expanded. The sealing ring expands to seal in pressure in the Instant Pot. If you just used your Instant Pot for another recipe or did a quick release to add an ingredient with a shorter cook time, your sealing ring may be already too expanded to be able to achieve a proper seal.

Either place the seal in the freezer for 5 minutes to let it cool and return to normal size or insert a spare sealing ring.

Not enough liquid was added to the instant pot for pressure to be achieved.

You MUST have at least 1 cup THIN liquid for all recipes!

Food has burned or scorched onto the bottom of the inner pot.

Liquid needs to be able to make contact with the bottom of the inner pot in order to build steam. If you place thick liquids (like tomato sauce) on the bottom of the inner pot the food is likely to scorch or burn as the Instant Pot tries to come to pressure.
This can also happen if you brown meat or vegetables first and don't deglaze the pan or scrape up any food bits that have formed on the inner pot.
Or if you overfill your instant pot with food and the liquid can not properly circulate, causing the food to scorch or burn.
How to Fix the Issue
No matter what your issue is, once the issue is fixed (even if is as simple as moving your pressure valve from the venting to the sealing position) you MUST be sure that too much liquid has not evaporated while your instant pot was trying to seal.
It is very possible you need to add additional liquid if your pressure cooker once your sealing issue has been resolved. Remember for pressure to be reached, you MUST have at least 1 cup of water for all recipes.
If liquid has evaporated, simply add in more water, stock or juice to make up for the liquid that was lost.
A Few More Trouble Shooting Tips for Instant Pot Not Sealing
How to get lid BACK on after "fixing" the issue

Sometimes, you may struggle to get your lid back on your instant pot if you disrupt the cooking cycle. This can happen when your vent valve is still pointing to "sealing." Turn your knob back to "venting" and try again.

Ensuring you have enough liquid in a recipe

ALWAYS remember to check to be sure that you still have 1 cup of liquid in inner pot of your pressure cooker AFTER you fix your sealing issue. It is very common for the liquid to be lost if your pressure cooker is struggling to come to pressure or if your knob was accidentally left on the "venting" position. Just add a bit more liquid and start the cooking time over again.

Frozen Food Coming to Pressure

Remember that frozen food, especially large cuts of frozen meat will take longer to come to pressure. Give your pressure cooker 45 minutes to come to pressure before becoming concerned.
If these tips did not solve your issue, contact Instant Pot Customer service who will be able to direct you accordingly.
For More Basic Instant Pot Tips, be sure to read up Instant Pot 101.
My Favorite Instant Pot Accessories
The following are affiliate links. We are a participant in the Amazon Services LLC Associates Program, an affiliate advertising program designed to provide a means for us to earn fees by linking to Amazon.com and affiliated sites.
Thanks so much for being a part of A Mind Full Mom!